Have you seen people
(i.e. ONTD)
go crazy over an artist but when you hear their music you can't vibe to them at all. Basically, meaning that you just cannot get into these artist's music. Or possibly only liking only one song or two but outside of those songs you just do not like their music.
For me, my music taste is like 70% R&B with the rest with Rap, Pop, Rock, Alternative, Jazz, etc. but if I like a song/artist (regardless of genre) I'll listen since I have albums of many artists outside of R&B of music. So, the list below is some of those artists who I cannot get into and never could.
Though there is possible hope for me about these artists. At the end of each artist's section, I will state whether I can change my mind on their music on a scale of 1-10 (1-no chance at all; 10-most definitely)
For those who will be upset with my list (because let's be real many will be), here is a random but cute gif in advance.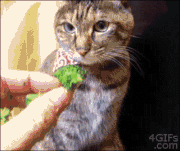 *(Since they'll be many videos posted, I'll put most of them under spoiler)*
Bruce Springsteen
Of anyone I have on the list, this probably the saddest about since he and his music is very loved. I tried to really get into his music because he's so loved and he's a democrat but…it didn't work. I love many artists from his genre and period but as I tried to listen to his songs especially his hit songs, I was just not feeling it. Here are a few of his songs below:
Of the songs I listened to, Dancing in the Dark is something I kinda of like but still…
Chances of changing my mind: I say 7. Again, as I said he is very likable, and I really want to like his music.
U2
My uncle is a big fan of U2 and I remember he play them all the time as a kid. So, I thought some weird way that his love for them would rub off on me lol but alas it did not quite work. There is one song/video that I remember that was a "hit" in the 90s that I think liked but I think it is because my uncle played the video to death. FYI: Useless information but on the show Shazam (with Jamie Foxx), they had a whole category on U2 and I got every song right without really knowing their music.
Here are some of their hits:
[I Still Havent Found What Im Looking For]

[Where The Streets Have No Name]

Numb is song I liked as a child, but seemed not to get into it as I got older
Chances of changing my mind: 9. Of all the artists on the list, U2 is most the likely I'll might try to listen to later on because by looking up their music for this list I was feeling a couple of their songs.
One Direction
I'm a big fan of boy bands with my love of New Edition, Backstreet Boys, 'NSYNC, New Kids on the Block, B2K and a host of many others. I even like a song by O-Town lmao. Even though I have gotten older, I can still appreciate boy bands so I thought it would be easy to enjoy One Direction music since most of ONTD loved them and most had an icon of them….and I was wrong. Even when they lost a member, I still could not get into them. Some of their hits:
The only song that I possibly know since the radio played it to death, What Makes You Beautiful
Chances of changing my mind: 3. I do not see myself changing my mine about the group and about them as solo artists either. Just maybe their music is not for me.
Ed Sheeran
Ed Sheeran is very popular (not sure how many like his music here on ONTD though). But tried to listen to a couple of his songs on the radio and I had to turn the station quickly. Not even a song produced by Pharrell can make like the song. Just like One Direction, just maybe his music is not for me. Some of his hits:
[Perfect]

That song Pharrell produced, Sing
Chances of changing my mind: 5. It might take a while but maybe in the future I'll relisten to some of his music.
Justin Bieber
[Sorry]

[Yummy]

That Baby song featuring Ludacris
Sources
Photos: 1|2|3|4|5
Songs: 1|2|3|4|5|6|7|8|9|10|11|12|13|14|15|16|17|18|19|20